Hani Nassif
Education:
Ph.D. (Structural) University of Michigan, Ann Arbor, 1993
Social Media:
https://scholar.google.com/citations?user=jcP7bLsAAAAJ&hl=en
Short Bio:
Professor Hani Nassif is currently working in the research area of structural health monitoring (SHM) of bridges and the use of advanced cementitious materials for infrastructure applications. Dr. Nassif is currently the Director of the "Bridge Resource Program (BRP)", sponsored by New Jersey Department of Transportation (NJDOT), designed to assist NJDOT in finding practical solutions for various challenges related to design, evaluation, load rating, SHM and Non-destructive testing (NDT), innovative materials, as well as on-call emergency responses. He is also serving as the Associate Director for Outreach and Technology Transfer, for the newly established Tier 1 Center (2017-2021), "Connected Cities for Smart Mobility toward Accessible and Resilient Transportation (C2SMART)" led by NYU. He also served as the associate Director for the Center on Research on Concrete Application for Sustainable Transportation (RE-CAST), another Tier 1 University Transportation Centers (UTCs) led by Missuori University for Science and Technology (MUST) (2013-2018) to address the U.S.DOT's strategic goal of State of Good Repair.
He is a Fellow of the American Concrete Institute (ACI) and past member of its Technical Activity Committee (TAC) and served as the President of the New Jersey ACI Chapter. He is active in various committees in ACI and TRB. He received various awards including the Lifetime Achievement Award from the NJACI Chapter and Concrete Aggregate Association, AASHTO's Research Activities Committee (2013) "Sweet Sixteen", Project Implementation Award from NJDOT (2013 and 2017), American Council of Engineering Companies (ACEC) Educator of The Year Award (2006) and American Society of Civil Engineers (ASCE) Central New Jersey's Educator of The Year Award (2005) for excellence in education and his dedication to student learning. He also served as the President of the Rutgers' Chapter of the Scientific Research Society. He is a member of the Engineering Honor Societies Tau Beta Pi and Chi Epsilon. Dr. Nassif has several years of practical experience in the area of structural design and construction.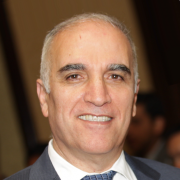 Job Title:
Professor, Director of RIME Group